Everyone who comes to Dubai would have heard about JBR and added it to the top of their bucket list. The locals and residents are equally excited about this waterfront development in the city, which is their favorite entertainment hub at night. A visit to Jumeirah Beach Residences (JBR) will give you a clear picture of the lifestyle and festive mood of Dubai. In fact, it is a miniature form of Dubai. So, make sure that you visit JBR in the first few days of your visit.
What is JBR?
Jumeirah Beach Residences, popularly known as JBR, is the luxurious neighborhood in Dubai admired by the residents, tourists, and locals alike. It is the most happening spot and has some of the most opulent apartments in the city. The beautiful waterfront community has the best places to stay, which has made it the top in the wish list of the residents.
A group of beige-colored buildings stands on the shore of a beach, thereby giving private beach access to the residents. You can't find a better place to stay in Dubai if you are a beach lover. JBR is a small city unto itself as it has everything ranging from restaurants, cafes, entertainment, and shopping destinations. The biggest advantage of having an apartment here is that you can lead the fascinating Dubai life inside this bustling area, which has all the amenities. 
However, it is needless to say that they are expensive to the extent that it is the playground of the rich. The residents have access to top-notch hotels, restaurants, tourist attractions, and prime connectivity to public transport. High-flying professionals choose JBR mainly due to its close proximity to Media City and Dubai Internet City.
Highlights of JBR Dubai
        Waterfront residential area with six main clusters of apartment buildings
        Has the largest inflatable water park
        The favorite sport for thrill-seekers
        Adjacent to the famous Dubai Marina
        Downtown Dubai is 30 minutes drive away
        13 minutes drive to Sheikh Zayed Road
        Dubai International Airport is 30 minutes away
JBR Beach Dubai
Whenever one thinks of the beachside lifestyle in Dubai, JBR will come to their mind in a flash of a second. JBR Beach is one of the most popular beaches in the city. It has upscale beachside dining, play areas for kids, and adventures like parasailing. This is a family-friendly area with lots of activities for people of all ages. Those who don't like to get wet can go camel riding while they enjoy the sights from heights. 
Fitness freaks can spend time at the running track, outdoor gym, and beach volleyball court. The thrill-seekers can try jet skiing, wakeboarding, and parasailing. And yes, JBR beach is a public beach which means all of you can visit the place and have fun.
JBR Walk Dubai
JBR Walk or simply the Walk is a lively promenade that stretches along the length of JBR. The boulevard is 1.7 km long and has everything from restaurants, cafes, and cinemas to bars. It is filled with boutiques, alfresco cafes, and restaurants.
JBR walk timing: Saturday – Thursday: 10 am to 10 pm
Friday: 3:30 pm to 10 pm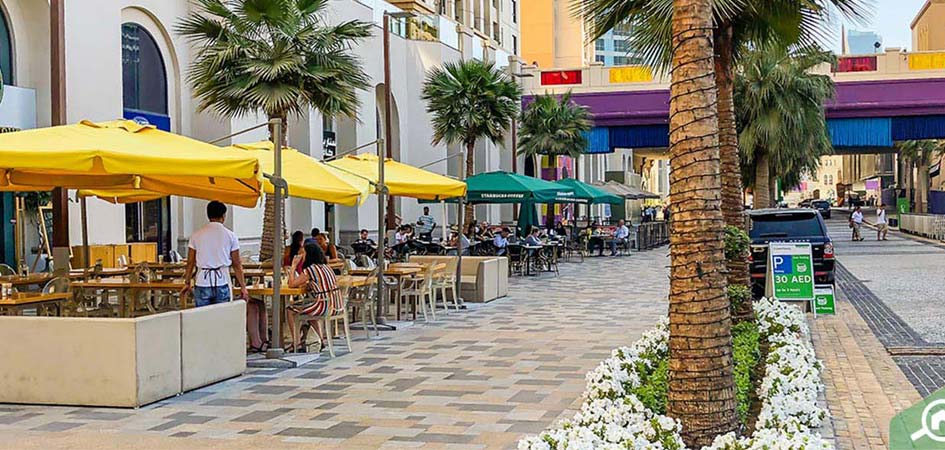 Aquafun
You are at the world's largest inflatable water park. The huge park with an area of 5000 square meters consists of an obstacle course. You will have to overcome many fun challenges to win. You should climb the stairs, slides, slopes, and towers, which are all made by a soft rubber material. The one who has a perfect blend of speed, balance, and agility will be the winner. Just like the name suggests, prepare to get wet.
Aquafun timing: 9 am- 6 pm (every day)
The Beach Dubai
The Beach is an open-air shopping mall in Jumeirah Beach Residences (JBR). It is poles apart from the other shopping malls in the city. As its name denotes, the Beach stands nearby the sea and offers outdoor shopping, dining, and watersports. This is the most popular destination for the residents at JBR. Sea Breeze is a sports venue at the Beach where you can play tennis or volleyball on the beachside. 
Roxy Cinema is the ideal place for movie buffs to watch the latest flicks. The kids will be happy at the Splashpad, where they can play in the water.
Dubai Marina
Marina is a luxurious neighborhood that stands right next to JBR. Those who live at JBR can stroll through Marina Walk in the evening. A fleet of yachts lies on the shore, which serves as a great way to explore Marina in style. The promenade is adorned with illuminated date palms and is full of eateries. As you walk, you will hear some screaming sounds. But don't worry, it is the adrenaline junkies who try XLine Dubai Marina. 
It is crazy zooming through the skyscrapers in Marina on a zip line. It is the longest urban zipline in the world and runs from one of the Amwaj Towers to the Marina Mall.
Ain Dubai
This is an upcoming wonder near Jumeirah Beach Residences. If you pass by Marina, you can see a giant Ferris wheel, and it is Ain Dubai. Upon completion, it will be the largest observation wheel in the world with 210 meters' height, adding another feather to Dubai's crown. It stands at Bluewaters Island, which is a beautiful isle being under construction at Marina. Ain Dubai is supposed to be the center of attraction in Marina in the coming years.
Marina Dhow Cruise
When you are at JBR, you cannot resist having a journey on a Dhow cruise. As you stroll through the Walk, you will see the illuminated wooden boats gliding through the waves. Dhow cruise starts from JBR and passes by Marina Walk, Marina Mall, and Bluewaters Island. It is a way to enjoy the nightlife and skyline of JBR differently. Sometimes, you may wish to have a dinner plan with your family in a unique setting.
Believe it or not, Dhow cruise dinner in Marina is a premium experience than any of the alfresco restaurants of JBR. So, witness the splendor of the waterfront community from the water.
Public transport in Jumeirah Beach Residence
        Jumeirah Beach Residence Tram Station 1
        Jumeirah Beach Residence Tram Station 2
        Dubai Marina Tram Station
        DAMAC metro station
        Jumeirah Lake Tower metro station
When you are at the most sought-after residential community in Dubai, everything is at your doorstep. On mundane workdays, just step out of your room and go for a refreshing evening walk. The live entertainment programs, the bright nightlife, and eateries are more than enough to make your day. Weekends are rarely boring as you have oodles of things to do in JBR at night. The visitors can roam around and see all the attractions and spice up their weekends.