What pops up in your mind when you think of night? I hope it is not as dull as the bedroom, lamps, and sleep. Even if it is, everything will change if you are in Dubai. The night is not just about rest when you are in a city that never sleeps. Try something different in the most happening city in the world. Nightlife in Dubai is eventful, and you can celebrate with your loved ones without thinking about the time.
There are many places to visit in Dubai at night. Make a bucket list of things to do in Dubai at night and spice up your holidays.
See mesmerizing Dubai Fountain show.
This is undoubtedly the topmost activity that should be on your bucket list for a night's visit in Dubai. Located at a fantastic location in Downtown Dubai, the fountain is a popular tourist attraction. The Dubai Fountain show gives a festive vibe to the premises from the evening. The main highlight of the fountain is that it is amid the two impressive structures in Dubai – one being the Burj Khalifa and the other being the Dubai Mall.
Two shows are there in the daytime. Still, the show is magnificent when you watch it under the moonlight. At night whole Burj Khalifa and Dubai Mall will be illuminated, and the fountain show will be a blend of lights and splash. Evening shows are from 6 pm to 11 pm at 30 minutes. Be there in Downtown Dubai at night to see the most significant performing fountain in the world. After watching a show, you will undoubtedly wait for half an hour for the next one. Dubai Mall opening hours
Go for Dhow cruise
Dhow cruise is a quintessential tourist activity in Dubai. It is a leisure trip on a traditional wooden boat refurbished for the tourists. Dhow offers a premium dinner and sightseeing experience. These are known as Dhow Cruise for the delicious dinner buffet they offer the guests. You can get a table at any of the famous restaurants in Dubai with wonderful waterfront views. But, none of them can give the delight of having food while enjoying the ever-changing views.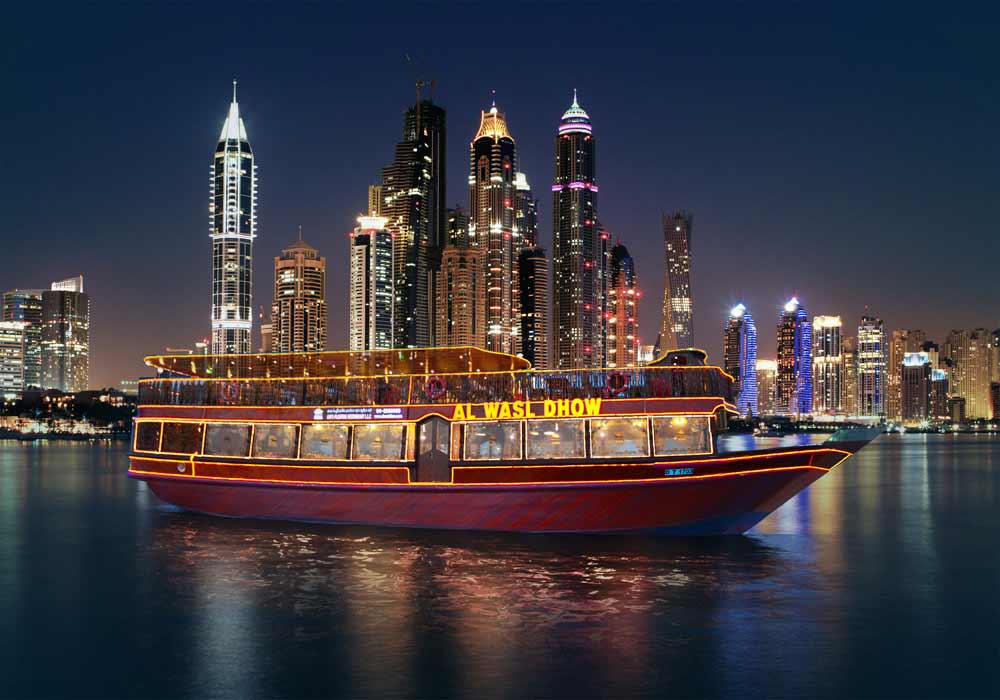 Dhow cruise enables you to choose between two destinations — Marina and Creek. The waterway in Marina and Creek is lit up when Dhows are passing by. Marina Dhow cruise is expensive, just like everything concerned with this canal city is so dear. It is a journey along with the modern skyscrapers in Dubai and throws light on the posh city life. On the other hand, the Creek Dhow cruise is synonymous with simplicity and traditions. It is economical and will let you spot some of the ancient skyscrapers in Dubai.
Admire varied cultures at Global village
As the name denotes, the whole globe shrinks to become a village in Dubai. The global village is one of the city's most-loved attractions, which comes to life only during winter. It is a blend of all cultures globally and is somewhere between a market and a theme park.
Global Village has numerous pavilions dedicated to different countries to buy traditional handicrafts. You will feel like you have toured around the world just in a few hours, and no surprise that it is a much-visited place in the city.
The pavilions of different countries are constructed to resemble their iconic landmarks or local architecture. You can ramble through an esplanade where you will spot Abras sailing with tourists. There will be many events and entertainment programs for the shopaholics and window-shoppers.
Global village timings
Date: 29 October 2019- 4 April 2020

Ticket price: AED 15

Timing: Saturday-Wednesday: 4 pm-midnight

Thursday, Friday, and Public Holidays: 4 pm – 1 am

Keep in mind: Monday is only for families with kids and ladies only
Stroll through Marina
Marina is the artificial canal city in Dubai known for its luxury and vibrant nightlife. The city gets a festive mood when it turns dark. You should see the Dubai Marina at night during your visit to Dubai. The main nighttime entertainments in Marina include sailing on yachts and Dhow cruise. You can spot a fleet of luxury yachts when you walk through Marina.
It would help if you never missed the landmarks, including the beautiful waterfront apartments called Jumeirah Beach Residences (JBR), the skyscrapers including Cayan Tower, Bluewaters Island, and the Marina Mall.
Bluewaters Island is the newest addition to Marina, which is still under construction. It had made headlines for having the tallest observation wheel called Ain Dubai. You can glimpse Ain Dubai, which will soon break world records. Marina Walk has several alfresco dining options, and simply walking through this promenade is fun.
The all lit-up Dubai Garden Glow
Dubai Garden Glow is a fantasy world that illuminates your nights. It opens only in winter and offers many magical moments to the visitors. The principle here is the best place to visit with your children as fun and learn. Children can see the dinosaurs, the underwater world, and their favorite cartoon characters. They will also learn about the importance of wildlife preservation and conserving resources for the future.
Dubai Glow Garden timing
The Garden will open in October

Timing: 4 pm – 11 pm

Venue: Zabeel park

The ticket price is AED 60 per person

Free entry for children below three years
Is it safe to walk in Dubai at night?
Yes, it is undoubtedly safe to walk in Dubai at night. Everything in the city becomes livelier after nightfall, and most tourist attractions will be crowded. The rate of crimes reported against tourists is significantly lower in this city. Women can use public transport at any time. However, it is better to avoid walking in secluded areas at late hours, especially when you are alone. Always prioritize your safety and the time of traveling alone depends on your judgment.
When you are in Dubai, just don't stay indoors at night. Step outside of the four walls and celebrate in the city of lights.