Marina is a testimony to the height of Dubai's ambitions. Marina, the artificial canal city near Palm Jumeirah, was planned and built from scratch. Ever since the marina opened in 2003, it has become the centerpiece of Dubai's tourist attractions and soaring opulence.
Marina is also the most modern upscale neighborhood in Dubai. The buildings, markets, walkways, and even the crowd here are reflective of this. The main part of Marina is the three-kilometer aquamarine water canal that runs along the Arabian Gulf.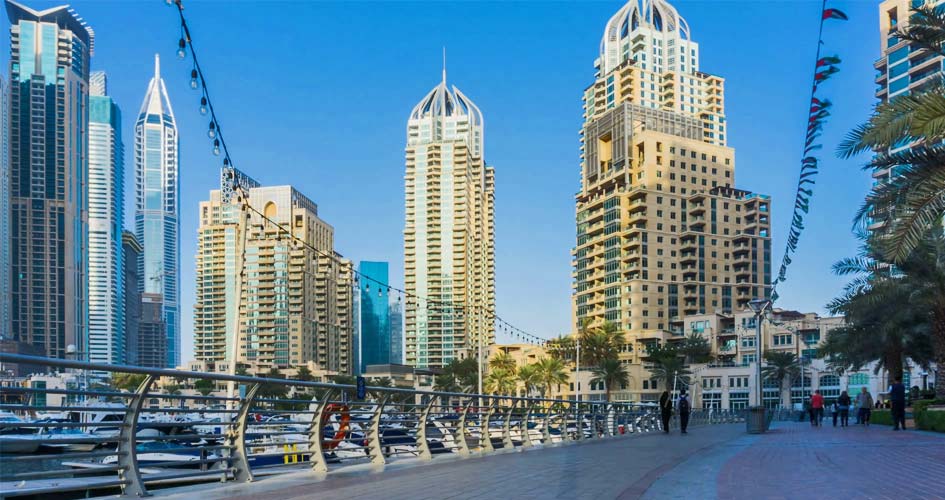 Marina water canal is flanked by a beautiful promenade lined with lush green palm trees. The walkway stretches for a little over seven kilometers. At the right times, this walkway turns into a colorful tourist hub. With about 70 restaurants and 300 branded outlets, the walkway offers so much more than a place for a morning jog or a lazy evening sprawl.
If you want to explore every single thing in Marina, you will have to spend a whole day. There are so many ways to enjoy yourself here. But if you want to go to every nook and corner then go on a walking tour through Dubai Marina Walk. Wear a nice pair of trainers if you love your feet because it's going to be a long walk.
Sightseeing in Dubai Marina Walk
Architectural marvels stand tall all along the length of the promenade. Manicured greenery and long stretches of palm trees add a touch of natural beauty to this artificial city.
You can see kids reveling in the dancing fountain near the Marina Towers. They run around and splash water wearing their swimsuits. Bring a change of dress if you want to join in. The fountain is even more attractive when it lights up at night. There is no shortage of play area for kids near the promenade either. Play areas with slides, swings, and separate spaces for parents to relax can be spotted easily.

During every weekend, the Cobblestone Boulevard witnesses street shows and dance performances. Cobblestone boulevard is a particularly spacious part of Dubai Marina Walk. Cyan tower which was once the tallest twisted skyscraper in the world is on the eastern side of the marina.
Mohammed Bin Ahmed Al Mulla Mosque in Marina offers a cultural walkthrough tour every Monday from 10 to 11 AM. This tour is open to non-muslims as well. The 45-minute tour will help one form a better understanding of the region's Islamic traditions and beliefs.
If you don't want to walk all the way, then that's fine too. Find a rental bike in any of the BYKY stands around here. Use your mobile phone to rent a bike for up to 24 hours.
Although walking is a good option for sightseeing, a dhow cruise dinner will give you a different perspective from the water with a luscious dinner buffet and traditional dance performance.
Restaurants in Dubai Marina Walk
Marina has some of the best eateries in Dubai. Also, you will need more fuel to do the walking. There are hundreds of options for brunch and quick coffees.
Nando's, Reem Al Bawadi, and PF Chang's are some great places to quench your hunger. From Sushis to Bruschettas and Turkish Gozlemes, there's nothing you cannot find here. There is even plenty of street food.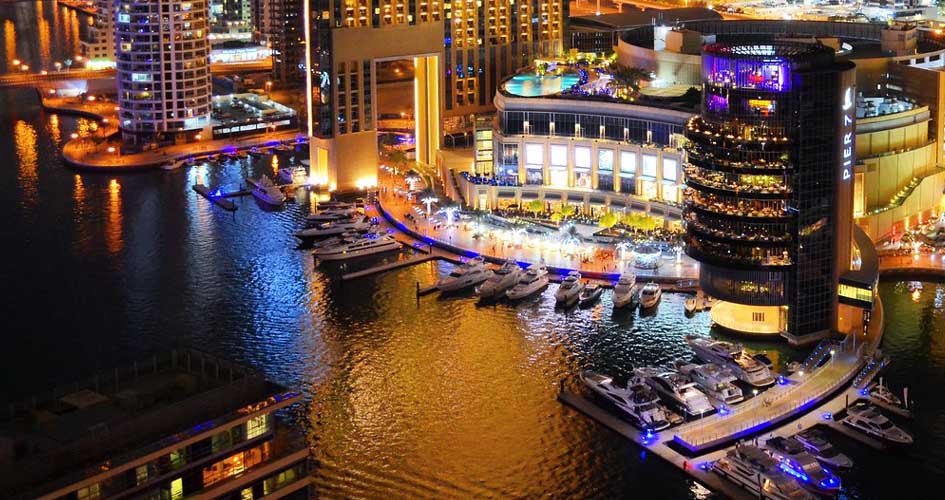 Pier 7 is a restaurant complex with seven floors. It has seven themed restaurants dedicated to different cuisines from across the world. Its unique construction offers a panoramic view of the marina, making it an architectural landmark at the same time. There is direct access to Pier 7 from the walkway. On the other hand, you can have food enjoying the fantastic view of the water in any of the numerous Alfresco restaurants along the canal.
Another option worth trying is the five-star dining experience in the restaurants in Address Hotel Dubai Marina.
Shopping at Dubai Marina Walk
The biggest shopping destination in the marina is the Marina Mall itself, which is located right next to Pier 7. The mall has over 130 outlets spread over four levels. If you have kids with you, the play area inside the mall is excellent. There are also cinemas if you are for some indoor entertainment. Countless branded and luxury shops make this mall a favorite for the residents near Marina.
There is also an open-air market — Covent Garden — along the canal. The Covent Garden Market mostly specializes in handmade clothes, jewelry, cosmetics, and crafts. Check out those counters for some souvenirs to take home. But this market will only open from October to April.
Best time to visit Dubai Marina Walk
Undoubtedly, the best time to visit Marina is at night. After the sunset, the street lamps and the cityscape are lit up, giving the whole area a great ambiance. Also, at night, there will be lots and lots of yachts and Dhows decorated with more lights sailing through the water.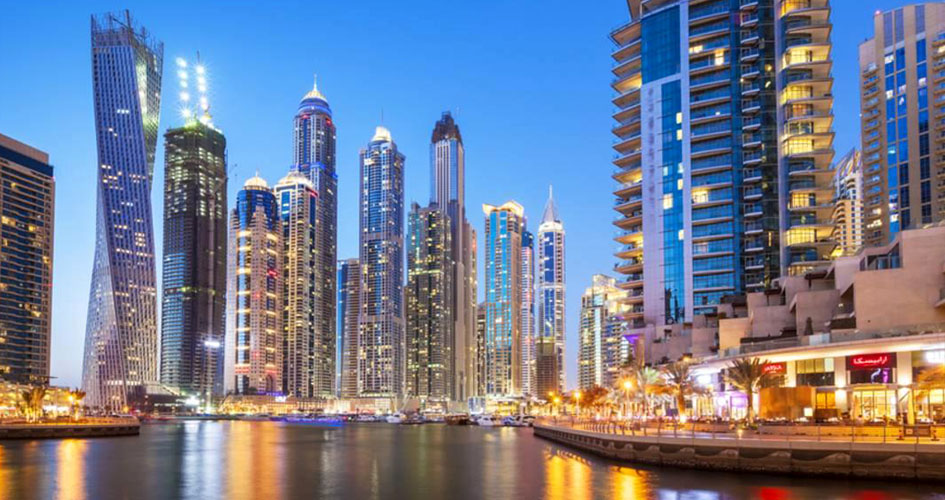 Day times during summers are hot. Like, really hot. So if you are visiting Dubai Marina Walk during the daytime in summer, you will be better off staying inside the malls. That's not at all a bad option either. But from October to March, which is winter in Dubai, you can comfortably walk the entire length of Marina in day time itself.
This place is crowded during the weekends, especially in the evening. Choosing weekdays for the trip will help you escape the crowd.
Metro stations near Dubai Marina
Dubai Marina is well connected with the rest of Dubai. Although there are buses which will take you there, it is better to take the metro. The nearest metro stations to Marina are Damac Properties and Jumeirah Lakes Towers metro stations. Both are equally convenient as there is an overpass through which you can access Marina Tram, which is right next to the promenade. It will take you only five minutes walk from the metro station to Marina Walk.
If you are driving to Marina, take Exit 32 from Sheikh Zayed Road. But we recommend taking public transport during the busy hours. Otherwise, you will end up looking for parking space for hours on end.